Just another blogs.bellevuerporter.com weblog
Thanksgiving – A day to appreciate great food books!
November 14th, 2012 at Wed, 14th, 2012 at 2:44 pm by cginnis
Hi, I'm Carla, one of the Adult Services librarians at the Bellevue Library – and this is my first entry on this blog.   Since many readers are – or soon will be – thinking about Thanksgiving, I'll  talk about some good books focusing on the holiday.  While each has great recipes, I'll point out some things that makes each one a bit special.
I'm starting with a funky  DVD!   On Deep Fried Thanksgiving, Alton Brown, from the Good Eats TV show, provides a fun intro to doing a general Thanksgiving food spread, involving gravy, stuffing, and two turkeys,  both traditional roasted and a deep-fried version (which locks in moisture and tenderness).
More standard, but wonderfully creative, are:
Thanksgiving Entertaining, from Williams-Sonoma,  covers the whole gamut of the holiday, from the invites, table decor ideas, to both standard and creative recipes.  You can use its full menus with "work plans"  or design your own.   I love the refreshingly easy Pear Sparkler non-alcoholic beverages to start off with!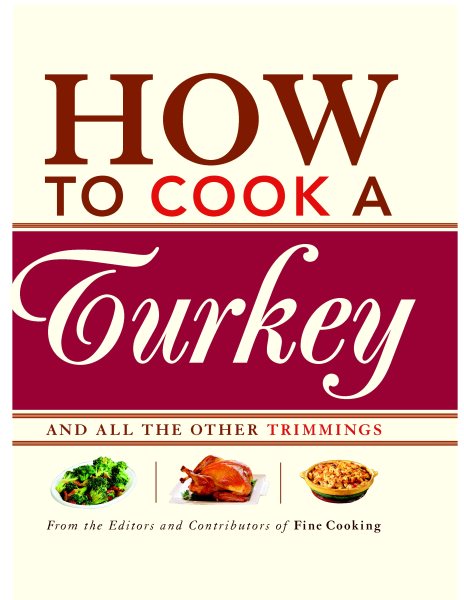 How to Cook a Turkey & all the other Trimmings   is done by the people at Fine Cooking, and is my favorite overall piece since it provides not only great recipes but lots of clear "how-to" photos.   I'm intrigued by the sauerkraut & rye bread stuffing AND the Triple chocolate cheese cake!
Giving Thanks:  Thanksgiving Recipes and History, from Pilgrims to Pumpkin Pie.  The title says it all.  It contains fascinating information about the history of the holiday,  lots of illustrations,  and great recipies for colonial, modern traditional, and new recipes that reflect the  international cultures input into this most "American" food day.   I especially like the Indian spiced yoghurt marinade that goes on the roasted turkey… think tandoori!
Thanksgiving 101:  Foolproof Recipes for turkey, Stuffings and Dressings, Cranberry Sauce, Pumpkin Pie, and More!, by Rick Rodgers.  Again this title says it all.  Its dependable, more traditional recipes and welath of helpful hints support less experienced cooks and all of us with little time to spend preparing for the day.  He has a recipe for a deep-fried, Cajun-flavored turkey that could be followed by Down-home pecan and Bourbon pie!
And a few for more specialized diets:
Vegan Holiday Kitchen: More than 200 Delicious, Festive Recipes for Special Occasions, by Nava Atlas.  Each of its 38 beautifully photographed Thanksgiving offerings list whether they are soy-, gluten-, or nut-free.   My favorite is the Ravioli with sweet potatoes and sage.
Gluten-free and Vegan Holidays:  Celebrating the Year with Simple, Satisfying Recipes and Menus, by Jennifer Katzinger.  While  this provides a wealth of recipes for a variety of holidays, its Thanksgiving entries include a really good "Acorn squash with Porcini mushroom filling" main course.
The South Beach Diet: Parties & Holidays Cookbook, by Arthur Agatston, MD.  While this includes a good number of tasty-sounding and very healthy recipes for Thanksgiving Day itself, my favorites are the ideas it gives for how to use all that left-over turkey (chili, curried salad, ginger stir-fry and more.)
Bon appetit!  Have an enjoyable – and filling – Turkey Day.