Just another blogs.bellevuerporter.com weblog
BEST 2012 BOOKS ON CD – LISTEN UP!
January 16th, 2013 at Wed, 16th, 2013 at 4:52 pm by cginnis
During my many years commuting down to Federal Way, I got used to  – and started loving – audiobooks, first on cassette tapes (shows my age!) and when my tape player finally died, books on CDs.  I want to remind blog readers that there are great titles that can be listened to vs. read.  So… below are a selection of  titles available from the library that have gotten good reviews from major newspapers (New York Times, Wall St. Journal, Washington Post, Seattle Times, etc.)   Enjoy!
FICTION
     BRING UP THE BODIES,   by Hillary Mantel.  This sequel to Hilary Mantel's 2009 Man Booker Prize winner and New York Times bestseller, Wolf Hall,  delves further into the heart of Tudor history, focusing on Cromwell's efforts to insure  Anne Boleyn's downfall, in order to satisfy good King Henry (VIII).  It's as as good as Wolf Hall (and as dense).
     THE BARTENDER'S TALE,   by Ivan Doig.    Master storyteller Ivan Doig returns to Montana in 1960 for this wonderful coming-of-age tale of a adolescent boy, a funky bar called the Medicine Lodge that's tended by his dad, and a couple of females out of Dad's past.  Doig captures how the world enlarges and gets more  complicated as childhood ends.
     GONE GIRL:  A NOVEL,   by Gillian Flynn.   Marriage can be a real killer!  One of the most critically acclaimed suspense writers of our time, Gillian Flynn, takes that statement to its darkest place in this masterpiece about a marriage gone terribly, terribly wrong. The Chicago Tribune proclaimed that her work "draws you in and keeps you reading with the force of a pure but nasty addiction." Gone Girl's toxic mix of sharp-edged wit and chilling prose creates a thriller that confounds you at every turn.
   NW,  by Zadie Smith.   Smith's piercing new novel traces the friendship of two women who grew up in the same NW London housing project.  Their friendship has been disrupted by fateful choices and the hard realities of life – and chance.  The plot moves forward in fragments, alternately sweet and brutal, revealing truths about identity, money, sex and connection.
   THE REVISED FUNDAMENTALS OF CAREGIVING,  by Jonathan Evison.   The bestselling author of West of Here proves that the long road home can sometimes be elusive and heartbreaking, but with a friend in the passenger seat, you might find your way.  Benjamin has lost virtually everything—his wife, his family, his home, his livelihood.   So he enrolls in a night class called The Fundamentals of Caregiving where he's taught to insert catheters and avoid liability, and how to keep physical and emotional distance between client and provider. But when he's is assigned to teenaged Trev, in the last stages of muscular dystrophy, he sees that these checklists didn't  prepare him for the reality of caring for a stubborn, sexually frustrated adolescent.  Embarking on a wild road trip to visit Trev's father, a friendship develops replacing that patient-caregiver boundary.
     SWEET  TOOTH,  by Ian McEwan.   In this stunning new novel, Ian McEwan's first female protagonist since Atonement  learns that espionage is the ultimate seduction.  Cambridge student Serena Frome's beauty and intelligence make her the ideal recruit for MI-5 in 1972. The Cold War is far from over. England's  intelligence agency is determined to manipulate the cultural conversation by funding writers whose politics align with those of the government. The operation is code named "Sweet Tooth."
Serena, a compulsive reader of novels, is the perfect candidate to infiltrate the literary world of a promising young writer named Tom Haley. At first, she merely loves his stories. Then she begins to love him.  How long can she keep lying to him about her real life?  Serena finds  she has to abandon the first rule of espionage: trust no one – even herself.
BIOGRAPHY AND NON-FICTION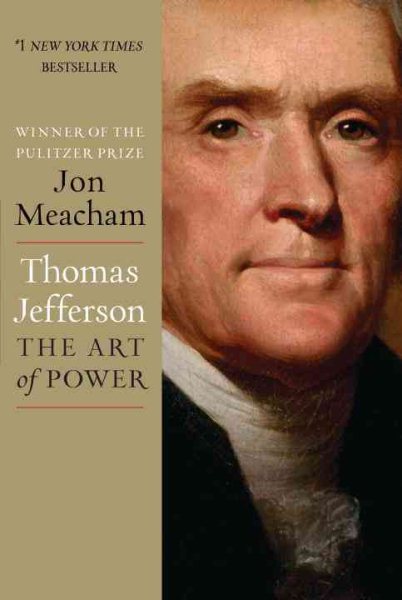 THOMAS JEFFERSON:  The Art of Power,  by Jon Meacham.   Meacham's book gives readers Jefferson the Politician and President;  a great and complex human being forever engaged in the wars of his era.  Philosophers think while politicians maneuver.   Jefferson's genius was that he was and could do both, often simultaneously, catapulting him into becoming the most successful political leader of the early republic, and perhaps in all of American history.
   CONNECTOME, by Sebastian Seung.   Many scientists speculate that people with anorexia, autism, and schizophrenia are "wired differently," but nobody really knows because the brain's wiring has never been clearly seen.  Sebastian Seung, an MIT neuroscientist, is trying to discover the biological basis of identity, believing it to be in the connections between the brain's neurons, which change slowly over time as we learn and grow. This connectome  is where our genetic inheritance intersects with our life experience…. where nature meets nurture.
   BEHIND THE BEAUTIFUL FOREVERS:  Life, Death, and  Hope in a Mumbai Undercity,  by Katherine Boo. Pulitzer Prize-winning journalist Boo profiles everyday life in the settlement of Annawadi as experienced by a Muslim teen, an ambitious rural mother of a hopeful female college student, and a young scrap metal thief, in an account that illuminates how their efforts to build better lives are challenged by regional religious, caste and economic tensions.
  WHY NATIONS FAIL:  The Origins of Power, Prosperity, and Poverty,  by Daron Acemoglu and James  Robinson.    Why are some nations rich and others poor?   Is it culture, the weather, geography,  ignorance of the right policies?   None of these is either definitive or destiny.  The authors show that it's man-made political and economic institutions that underlie economic success (or lack of it).   Based on  years of research,  they  marshall historical evidence from the Roman Empire to the Soviet Union, from Korea to Africa, to build a new theory of political economy with great relevance for the today's questions, such as:  Will China continue to grow at such high speed and overwhelm the West?   Is America moving from a virtuous circle, in which efforts by elites to aggrandize power are resisted, to a vicious one that empowers a small minority?   What is the most effective way to move billions of people from poverty to prosperity?