Just another blogs.bellevuerporter.com weblog
Audiobooks to Soothe the Savage Beast
January 9th, 2013 at Wed, 9th, 2013 at 2:41 pm by Rowena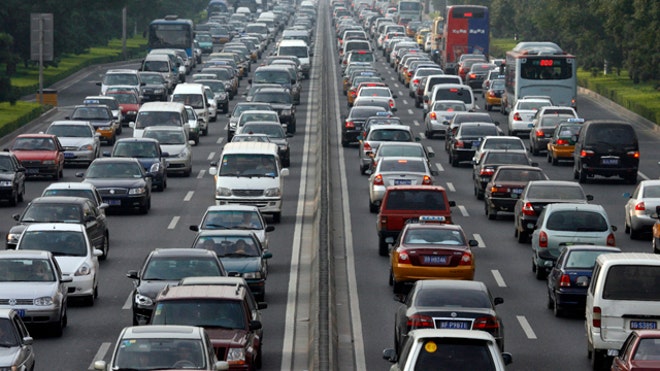 Several days a week I have the pleasure of acquainting myself with the fauna along I405 and I5 between Des Moines and Bellevue. Mostly they are docile, allowing me to merge without incident, passing when they feel I'm lagging, or even letting me pass when I'm feeling brave. I signal my submission with a polite wave, which usually dispels any potential aggression.
On a good day I can be in and out with minimal trauma in about 20-30 minutes. More often than not, I'm stuck in my car for over an hour as the resident fauna do what they will with me. They crowd me on that stretch of freeway trying desperately to assert their dominance and let me know who's boss. I do what I can to keep my cool and not snap, mainly out of fear of angering the rest of the beasts on the road.
For this reason, I've found it helpful to have books on cd to keep me company in that sometimes hostile environment. The King County Library System has a great collection of fiction and non-fiction options. Some of the ones that have entertained me over the last few months:
The Night Circus by Erin Morgenstern. With such visual aspects to this book, I may have missed a lot during my tirades against sightseeing and admiration of the local fauna. I still suggest you take a listen, especially if your commute allows you to pay more attention to the story rather than to the beasts on the road.
Warriors Don't Cry by Melba Patillo Beals. A memoir by one of the Little Rock Nine who struggled to integrate Central High School in Arkansas. Warning: The reader does a fantastic job of acting out the situations that occurred, but watch out—if your windows are down, you may get the stink-eye from your fellow commuters who can hear her yelling the mean nasty names that these kids were called.
Hella Nation by Evan Wright. Who is this dude? And why am I not his friend? He describes different worlds that I would never have the chance to see—not that I'm willing to be part of those worlds, but they are pretty darn interesting.
You Deserve Nothing by Alexander Maksik. A much admired literature teacher who teaches in Paris shows that despite the lofty ideals he encourages in his students, he himself succumbs to temptations that tear his life asunder.
Little Bee by Chris Cleave. The horrors suffered by a Nigerian girl at the hands of her own countrymen made me want to cry. The clueless British couple who play an integral role in her life angered me so I nearly stopped listening—or maybe it was the guy in the sports car who would not let me merge.
The Particular Sadness of Lemon Cake by Aimee Bender. The discovery that you can taste a person's feelings in the food they make is a "gift" that I am glad to not have.
The Last Empress by Anchee Min. This continues where Empress Orchid left off, following Orchid through the deaths of her son, her adopted son, and her struggle with power in a world where women should primarily be seen and not heard.
Honolulu by Alan Brennert. This was a lovely story that made me appreciate where I am as a woman today. The reader takes the main character from young child to elderly woman flawlessly. And she can sing!
Room by Emma Donoghue. It took me a moment to get used to the reader's voice when she was in character of the young child, but the story was easy enough to follow even when traffic became so intense that I had to zone out of what was going on in the story in order to concentrate on the road.
Of course, the tragedy is that currently my cd player is on the fritz. Perhaps my next entry will be about the Playaways that I will have been listening to after installing a brand new stereo system.